Connect with Industry Leaders at
Power of People 2017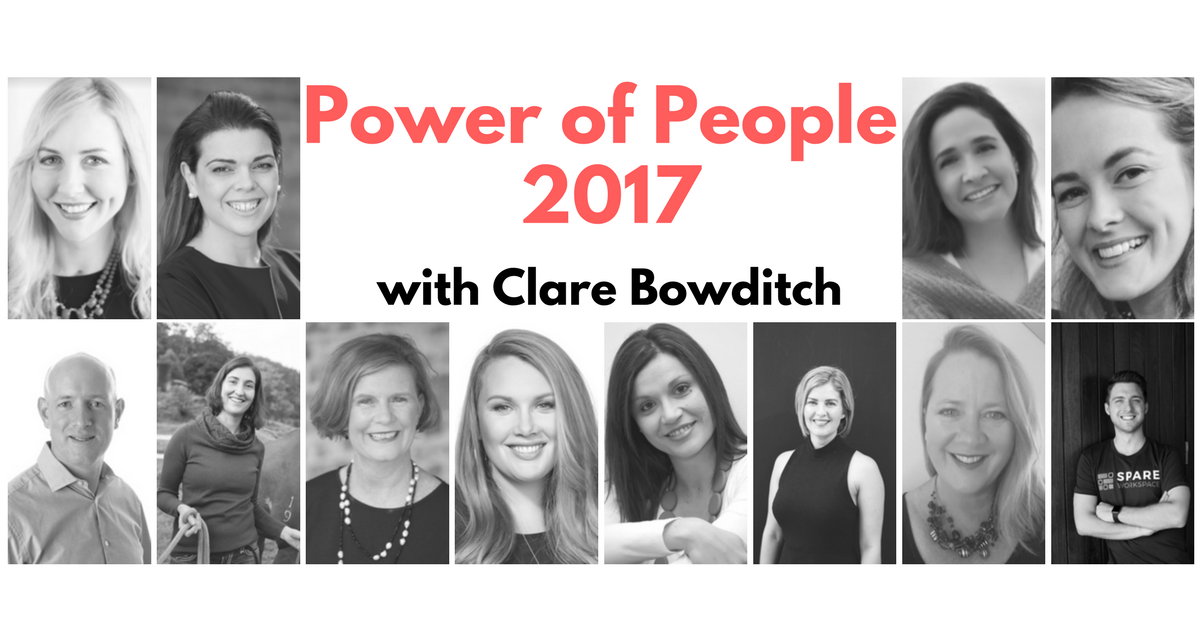 155 Queen St, Brisbane | 8.30am to 5.00pm
It all starts with people.
The 2017 Power of People Conference will challenge the traditional methods of developing people in life and at work. Our aim is to teach leaders of today and tomorrow why people matter and provide the practical tools and strategies to equip people for success.
Featuring some of the best leadership, business and development practitioners and speakers including multiple ARIA award winning singer and songwriter, Clare Bowditch as our keynote speaker!

We promise you there will be no corporate jargon and lip service at this conference.
Event Program
9:00 am - Big Hearted Business - Keynote Clare Bowditch
10:00 am - Be the Master of your own destiny - Understanding your value and setting you on the road to success
11:00 am - Morning Tea
11:15 am - The Dysfunctional & Functional - a practical guide to improving your communication, team and culture
12:15 pm - Motives in Music - insight into how we communicate with others, motivation through music and active listening
1:00 pm - Lunch
1:45 pm - Name it to Tame it
2:30 pm - Panel - Reinventing yourself or your brand
3:30 pm - Afternoon Tea
3:45 pm - Panel - Building Trust and Bravery in Business
4:15 pm - The Art of Networking - Networking Speed Dating Session
5:00 pm - Connecting and socialising drinks
Clare Bowditch
Clare Bowditch is a multiple ARIA award-winning singer/songwriter, a Logie-nominated actor (Channel 10's Offspring), and the founder of Big Hearted Business, focused around lifting the creative industry and giving them the skills and support they need to create a thriving business.
2017 sees Clare continuing to host Statewide Afternoons for ABC Radio Melbourne, as well as working on her latest album set to release later this year.
On TV, she has been a featured guest on programs from "Compass", "Q&A", "Artscape" and "Insight", to "Talkin' Bout Your Generation", "Rockwiz" and "Spicks and Specks", was a regular guest host on "The Circle" and has presented (and won) at the ARIA Awards. She was the first "Q & A" panelist ever to also perform a song, and interviewed Prime Minister Gillard for MYSPACE, three days before the crucial 2010 election.
Clare has had Top Ten albums, been named Rolling Stone Woman of the Year (Contribution to Culture), Yen Young Woman of the Year (Music), toured the world with Gotye and nationally with Leonard Cohen, written for Harpers Bazaar and the Drum, and currently hosts an Australian Music Show on Qantas. Along with her creative/business/life-partner Marty Brown, she has three children – identical twins Oscar and Elijah, and one-of-a-kind Asha.
Clare also co-wrote and starred in the smash-hit theatre-show "Tales From The Life Of Eva – The Eva Cassidy Story", in 2011.
Clare's talents also extend to public speaking, presenting key note speeches, hosting and MCing, including the "Women of Letters" book launches and an inspiring TEDx talk at the Wheeler Centre in December 2012. Clare narrated Music Max's "My First Gig", Series One and Two. Clare also hosted the nightly Evenings radio show on ABC 774 in a national broadcast during the summer of 2011, and has hosted summer shows on Triple J and has also guest-edited a special edition of Australian Musician magazine.
Clare is regularly invited to sit on both Ministerial and Award Assessment panels (Australia Council, AMP, ARIA, APRA), and was Secretary of the Music Victoria Board until 2012. She is also a proud ambassador for Life's Little Treasures, PPCA and APRA.
"Clare is one of those effortlessly mesmeric communicators. Her rare blend of insight and charisma means that people cannot help but be thoroughly engaged when she speaks." - Waleed Aly
"She is that rare combination of creative talent, intellectual insight and evident empathy for the human condition. She is a compelling speaker on a range of topics relevant to most of us, and has both a gifted and humorous capacity to make large and small audiences feel immensely welcome and involved"- Fabian Dattner (Business Leader, Social Entrepreneur)
Giovanna Lever
Giovanna is an Integrated Business Solutions expert, speaker, problem solver and opportunity creator.
Her experience is varied across the commercial environment from heading the growth phase of Australian beauty start up Vanity Group globally and opening the InterContinental Sydney Double Bay as Director of Marketing through to Global Marketing at Tourism Australia's Business Events team and several consumer campaigns and PR for Rugby World Cup in Australia.
She believes that the core of every business is its people and instills a culture of sharing knowledge and connecting true talent. As such she has founded global connection group, Sparrows United and Sparrowly Group - a consultancy practice providing practical commercial and organisational solutions and professional mentoring services. Giovanna is also the Co-Founder of E4 which focuses on mentoring and education to support young people (high school and tertiary education) in the critical years of their life and provide practical guidance through the early years of their career.
Avril Timbs
Avril is a highly skilled producer with a proven track record of success in the management of business critical projects.
She has joined forces with Talya Rabinovitz and together have founded EQHQ a consultancy and training organisation providing businesses and their team's the pragmatic Emotional Intelligence tools and strategies to increase team performance, positive work attitude, loyalty, job satisfaction, commitment and decrease stress, absenteeism, and disengagement.
Together they share the belief most eloquently put "Great leadership is about human experiences. It's not a formula or a program, it is a human activity that comes from the heart and considers the hearts of others. It is an attitude, not a routine." - Lance Secretan
Talya Rabinovitz
Talya is a registered Psychologist and Group Therapist, with a Masters in Clinical Psychology and Co-Founder of EQHQ a consultancy and training organisation that aims to empower teams through the positive force of emotional intelligence training. She is also the Founder of The Healthy Mind Project.
Talya's high academic achievement led to an invitation to The Golden Key Society and a research commendation from the Australian Psychological Society.
Talya has designed and delivered group therapy programs across Australia and online. She is known for her ability to simplify complex psychological information into engaging content that creates noticeable shifts in her clients' behaviour and insight.
Jake Dimarco
Jake Dimarco founded Spare Workspace in 2015, after seeing opportunity to provide a platform for businesses to easily share their spare workspace. With a background in sales and marketing for household names including Apple, Samsung and Vodafone.
Jake has also owned and exited two successful businesses prior to founding Spare Workspace. He is interested in innovation, small business and the evolution of workplaces and how we work.
Hamish King
Hamish King is a passionate believer in the power of music. Founder of Motives In Music, Hamish has operated his music therapy practice primarily throughout South East Queensland, delivering many professional development workshops across the region. Through his music Hamish has enhanced the lives of many by using music as a tool of positive change, and of growth.
Hamish is committed to sharing his love of music and the skills and the knowledge he has acquired from nearly a decade dedicated to the practice of music therapy and its ability to engage and empower the lives of others. He offers a heart-felt, musical approach to personal and business development; encouraging and supporting individuals to take an active role in their 'inner game' – because as Hamish puts it - this is where everything begins!
Hamish's love of music inspires a call to action, this call demands us all to be bold, and to embrace our potential while nurturing our connection with others. Hamish is a graduate of the University of Queensland, where he completed a Master of Music Therapy and a Bachelor of Arts Degree majoring in psychology and music. He has also completed Neurologic Music Therapy training in Melbourne.
Lisa Cox
Lisa's inspiring story epitomises fearless living and has been featured in national and international publications, including Woman's Day (Australia) and Complete Wellbeing (India). Lisa is on a mission to motivate and empower audiences with sustainable confidence, courage and fearless ambition.
Lisa's key messages include measuring success based on personal values and priorities, why gratitude is a cornerstone of good health, the power of perspective, how to authentically walk the talk (or wheel the spiel), facilitating change and starting small to achieve goals, and successful strategies to overcome challenges, big and small to name a few.
Jane Faulkner
Jane Faulkner is the founder of Equine Assisted Therapy Australia, a registered training organisation that integrates counselling, equine assisted therapy, art therapy, yoga and horsemanship.
With her unique approach to therapy Jane provides training, restorative retreats and individual sessions to people with varying needs. Drawing on her diverse career as a Registered Nurse, yoga teacher, Gestalt psychotherapist, art therapist and equine assisted psychotherapist Jane supports people through difficult life transitions and issues. Jane has over 20 years experience working with people of all ages, from all walks of life.
Heather MacDonald
Heather is driven by providing the best possible opportunities for teachers and students. She has been involved in Education for over 25 years and established Education Partnerships 12 years ago to build mutually beneficial relationships between business and education. Heather develops education programs and resources for school aged and tertiary students to support teachers while matching the objectives of businesses.
Heather has developed strategically positioned education programs for some of the largest organisations, including, the Commonwealth Bank, ME Bank, UNICEF, Australian Rugby Union, The Australian Olympic and Paralympic Committees and the International Olympic Committee.
Heather is co-founder of E4, with Giovanna Lever. E4 was established to address the growing concern about the transition of young people into the workforce. E4 works with secondary and tertiary students, and young executives through structured one-on-one mentoring relationships that partners enthusiasm with experience to develop empowering relationships built on trust.
Annabel Sullivan
Annabel Sullivan wears a few different hats because variety is something she thrives on. She values the opportunity to apply her skills and experience across a number of areas. Current roles:
Director, Strategic Social Profiles
Tutor I Lecturer, The University of Queensland, Tourism Department
Consultant, Business Events Industry
Annabel studied business majoring in marketing and has completed a Bachelor of Commerce and a Graduate Diploma in Management. She believes in life-long learning and has completed training in leadership, presentations, sales, management, performance etc.
Annabel has twenty-five years sales and marketing experience within the Tourism & Business Events industry. She began her career with Tourism and Events Queensland and has worked for renowned businesses including: Qantas Australian Resorts, P&O Australian Resorts, Voyages Hotels and Resorts and Brisbane Convention Bureau (Brisbane Marketing).
She is passionate, highly motivated, and an outcome focused individual. Her extensive experiences in senior leadership roles have seen her lead strategy, business planning, and drive the day-to-day operations of teams to achieve business success. Annabel has an ability to build strong and lasting strategic partnerships and proactively stays connected to her business network.
Throughout her career Annabel has taken on a number of voluntary roles including: Chairperson for the Bureau Exchange group as part of the Association of Australian Convention Bureau, committee member of the Australian Association Project, Program Chair MEA 24th Annual Conference 2011, and a member of The University of Queensland Business School Tourism Industry Advisory Board.
Miriam Fois
Miriam secured her first role in the corporate travel industry arena for a major Global Travel Manager upon relocation from Bundaberg to Brisbane, Miriam has transferred to Melbourne and New Zealand working in multiple capacities for Carlson Wagonlit Travel (CWT).
Deciding that Brisbane was where she wanted to settle, Miriam commenced her pursuit for a leadership role. In 2006 Miriam was appointed the QLD State Manager for the CWT office in Brisbane, which encompassed managing 70 frontline staff and a portfolio of corporate clients spending approximately $100M in corporate travel annually. After having time off to have a family Miriam has recently returned to the corporate travel industry in a Business Development role for Complete Business Travel, specialists in providing end to end travel management solutions for small to medium businesses.
Miriam strongly believes in diversifying income streams and ensuring you pursue all passions. Having a daughter with chronic Eczema and food allergies, Miriam created an online children's boutique, Lester & Darnie selling organic, natural, non-toxic products for children with sensitive skin and allergies.
Claire Deane
Claire is a digital marketer, Google analytics nerd and social media addict. She has worked with big and small brands across a range of industries, from fashion to food with digital publishing platforms to yoga studios, education institutions to wedding accessory designers. She's developed social media strategies for The Locale Group's stable of brands (Talulah, Stevie May and Isla), created digital marketing strategies for Dissh, helped a handmade brand get picked up by international retailer BHLDN on the strength of their social media content, and grown digital publisher The Urban List to 200K visitors, and launched across three major cities.
She's written a book on building a business as an introvert that's been featured in Collective Mag and Design*Sponge. You can read the ebook here http://chargeupintroverts.com/
Join Us
Saturday, 13 May 2017
Time
8:30 am to 5:00 pm
(followed by drinks and networking)
Where
The Capital, Brisbane

Tickets and travel expenses are tax deductible
What are you waiting for?
Book your Tickets NOW! Hurry before they're all gone!